Download the Abide app onto an iOS iPhone or iPad, and you will receive a pop-up option to activate a 7-day free trial to an Abide Premium subscription with full content.
This free trial is through Apple; we have no access to iTunes accounts; Apple handles the activation, cancellation, and any fees.
**The free trial is optional; you may X out of it and enjoy the free version of Abide**
A. Selecting Free Trial: When the pop-up screen invites you to try seven days of Premium subscription access, you will see the subscription price at the bottom of the screen before you accept to unlock a 7-day trial to Abide. This is the price you will be charged at the end of your trial. If you find you are not interested in a subscription, simply cancel your free trial 24 hours before the 7th day. The Abide Premium subscription includes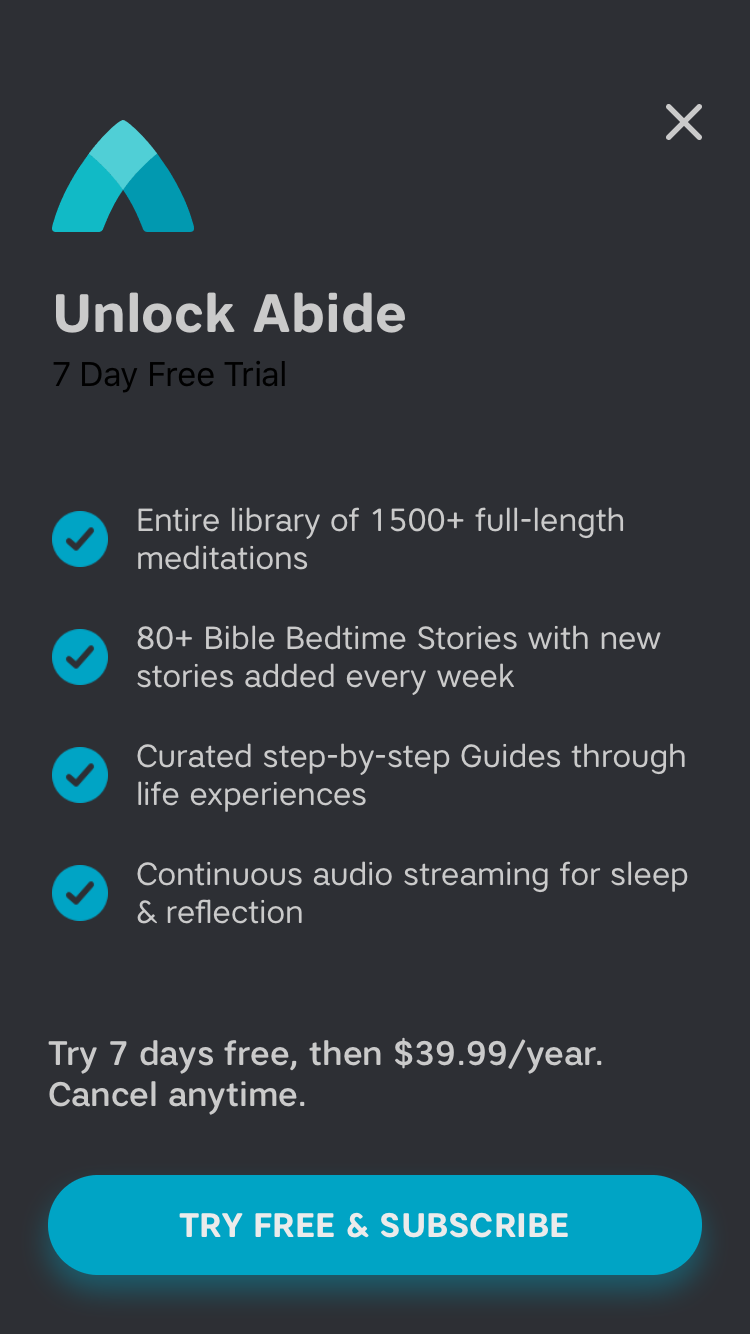 B. Not Interested in a Free Trial: If you do not wish to start a free trial, simply tap on the 'X' in the top right corner of the screen to exit. This will take you to the Today screen, where you may enjoy our free content. Subscription content will have padlocks on them. Every time you tap on a lock, you will be asked to subscribe.
C. Free Trial Terms: If you decide to start a free trial, click on "Try Free and Subscribe." You will then see a screen with an explanation of the trial terms and price. The free trial will be active for seven days, at which point you will be charged the full yearly subscription price. Please cancel the free trial at least 24 hours before it ends to avoid any charges from Apple.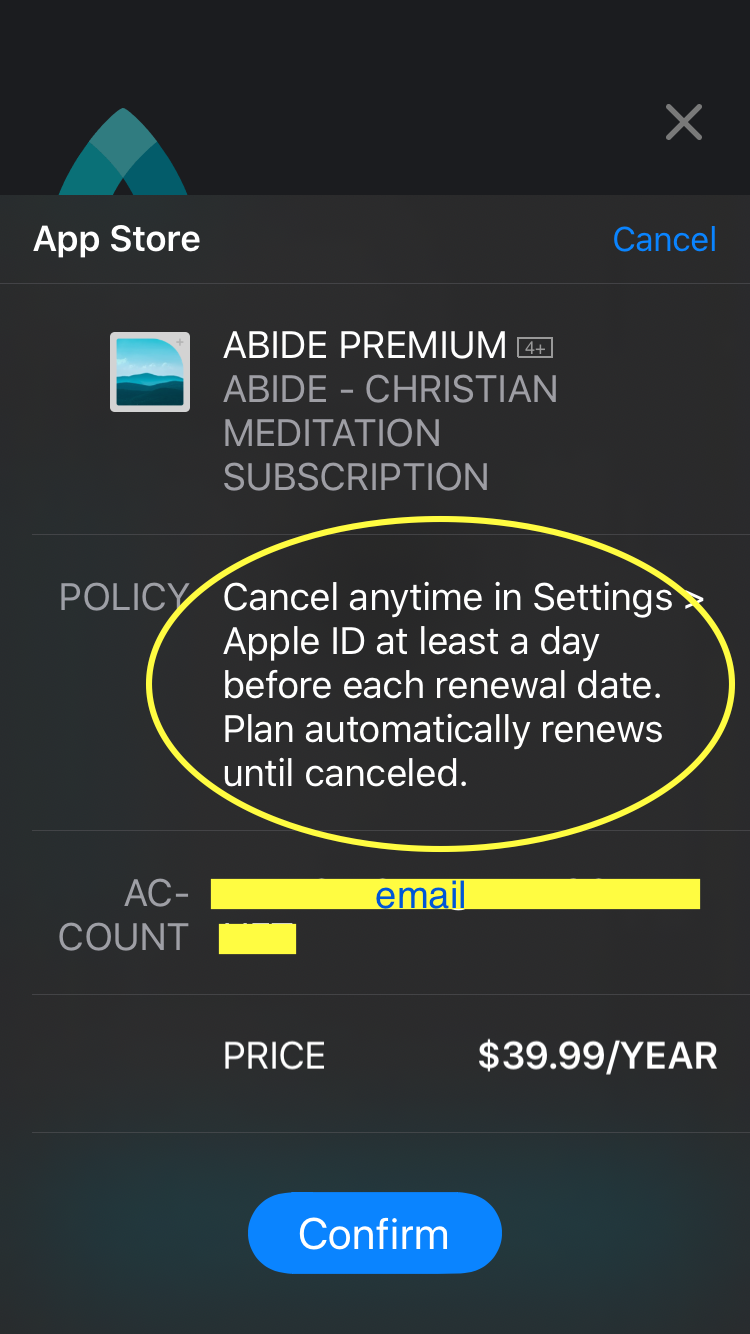 D. Confirm Subscription: Once you click Confirm, you will see a final screen asking you to confirm your purchase, with instructions to cancel at least 24 hours before your trial ends if you do not wish to continue into a yearly subscription, or you will be charged and must go through Apple refund procedures.
E. Premium Features: Please visit our website link, iOS Premium Features, so you enjoy all Abide has to offer you!
F. Cancel your free trial: If you do not wish to continue into an annual subscription at the end of the free trial, please be sure to cancel as soon as possible. Cancel
G. Trial End: If you cancel the free trial before it ends, Abide will revert to the free-locked version at the end of your trial. You will then only be able to access our free content, which we are sure you will still enjoy. If you do not cancel before the end of your free trial, you will be billed the full annual subscription price, and you will continue to have access to the Abide Premium features for the duration of your annual subscription.
You can read more about how subscriptions through Apple work here.
** If you have had a free trial at some point over the years, you will automatically roll into a subscription. The system is set up for ONE free trial.
Please contact Customer Support, and we will assist you. **